Sustainability
At Ebnat, sustainability is not a fashion trend, but a philosophy of value cultivated over decades. The move towards a more sustainable society pleases us greatly and shows us that we are on the right track with our principles. We hope and believe that this trend will continue to grow in importance.
At Ebnat AG, sustainability is practised in two respects: Products & Production
Products:
• We love wood
A key focus in our production has always been on wood processing, therefore we are continuously expanding our expertise in this area. This allows us to quickly respond to the current needs of our customers using our latest developments.
Latest oral hygiene product developments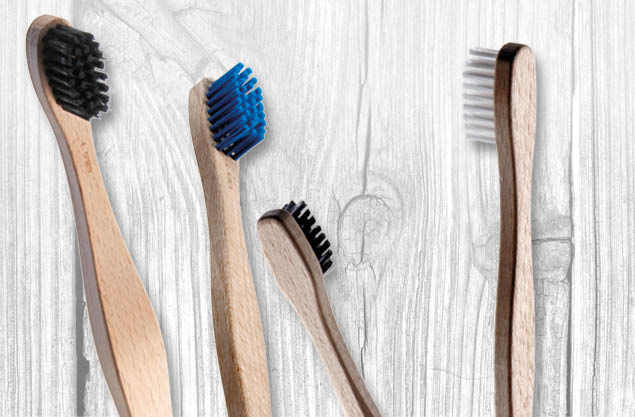 In recent years we have devoted a great deal of attention to the development of wooden toothbrushes. The call for the use of renewable materials in oral hygiene has also grown louder. The demand has made it clear that with this development, we are hitting the mark.
It is recommended to replace toothbrushes at least every 3 months. For used toothbrushes there is no cycle that could return the reusable materials to production by recycling them. This means that in the field of oral hygiene, a very large quantity of reusable materials is destroyed in a linear economic process and as a result, CO2 is released. By replacing the plastic handle with a wooden one, we focus on renewable and low-CO2 materials.
Latest household product developments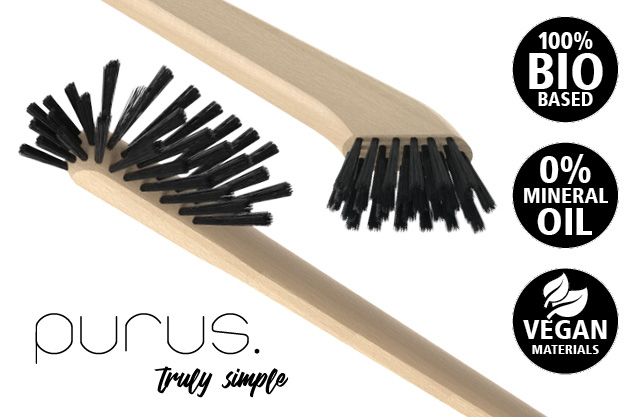 Our latest "purus." household range also focuses on wood as a material.
"Perfection is achieved, not when there is nothing more to add, but when there is nothing left to take away." (Antoine de Saint-Exupéry).
Ebnat AG has taken inspiration from this quote for the production of the new "purus." product line. After all, even the most sustainable materials should not be wasted. In order to conserve the natural resources, only the absolute minimum of material is used for this product line. Swiss FSC beech wood is used for the brush handles and 100% bio-based plastic, derived from castor oil, for the bristles. In doing so, Ebnat AG pushed its limits because the two components of the brush directly interact with each other. The brush bodies were designed to be as narrow as possible, yet wide enough to accommodate the optimum quantity of brush head bristles. There is nothing more to add, but there is nothing left to take away either.
• We also like plastic
No matter how much we love wood or renewable raw materials, we must not condemn mineral oil-based plastics. If we use recycled plastic responsibly, we can also produce sustainable products. Plastic has very good characteristics that we can and want to use for our products, particularly in wet areas.
• Packaging
In addition to processing certified plastics that are as environmentally friendly as possible, Ebnat attaches particular importance to sensible packaging of its products. We work with as little packaging as possible. For example, many products are only labelled with a narrow cardboard sleeve containing the basic product information. We use cardboard and paper with a high recycled content for our cardboard sleeves. Where possible, we strive to avoid costly blister packaging with a high percentage of waste. Ebnat AG continuously checks existing packaging in terms of sustainability and, if required, makes the relevant improvements.
Production:
• Raw materials
Wood and heat energy
During the wood processing an average of 60% wood waste is generated. For around forty years, we have been storing all wood waste in our in-house silos and have been using it for heat recovery for the heating and the wood drying chambers. During normal heating periods, this wood waste covers Ebnat's entire heat requirements.
Ebnat is FSC certified. In 2019 Ebnat was also awarded the "Swiss wood" certification.
Ebnat strives to achieve the lowest possible energy consumption. Therefore, wood waste is used to heat the premises. It covers the company's entire energy requirements for heating the production facilities and offices. The burner installation can also be switched over to fuel oil for increased reliability. However, this option is only used if the wood firing system fails, which has hardly ever been necessary in recent years.
Plastic
Whenever possible, recyclable materials are used. Plastic waste is returned to the production cycle. Analyses and improvements of production processes are used to minimise rejects. Waste from the in-house plastic production is ground in the recycling plant and melted into recycled granulate. In addition to standard plastic waste, press-cut toothbrushes are also processed by cutting the heads off on a special machine and then recycling the brushes. 100% of the recycled granulate is reused for a wide range of black plastic parts.
Many customers stipulate the use of plastic, which has already passed through its life cycle, so-called post-consumer material. Ebnat also processes this type of material. Unfortunately, this material is not suitable for functional parts because the composition varies and stability is not guaranteed.
• Energy use
Electricity
The electricity consumption is measured per consumer. The relevant measures to be implemented are derived from the results. The energy saving measures will be consistently continued within the framework of the legislation governing large-scale energy consumers. The focus is on staff training, replacement of compressed air and procurement of energy-saving plants.
Water
The production process does not use drinking water for the manufacture of goods. Therefore, the water consumption is relatively low and limited to hygiene and cleaning.
In the winter and for as long as the difference in temperature permits, water from the river Thur is used for cooling the injection moulding machines. This water is fed into a circuit separate from the process. In addition, groundwater is used in this cooling circuit in the summer.
For cooling the premises, a separate, closed cooling circuit with heat exchanger was installed in 2018. Water from the Thur and groundwater is drawn directly into the building. This makes it possible to increasingly use Thur water for cooling instead of more valuable ground water. This measure reduced the overall water consumption by 20%.